Follow this link to play the game on my portfolio website!
A short interactive web-game of mine created for an Interactive Art class at BGSU. The site itself was created using exclusively

Adobe Dreamweaver

where I explored both 

Javascript

and jQuery

in an

 html

format.
The player's goal is to deliver the

most exciting news headlines possible

as a newly hired intern in charge of working the teleprompter. 
I was inspired by the recent presidential election and the accompanying

sensationalist headlines

that had been bombarding my news feeds and television screens. Quite obviously, the truth was taking a back-seat to the possibility of

high ratings

and

national publicity

.
It occurred to me that this kind of journalism has been around for decades in our modern-day televised media. So, I gave the game a

1950s retro theme

to keep it

relevant

  and

stylish

while not being to

heavy-handed

in regards to visuals and any implied presidential context.
The voice of the central newscaster was provided by the talented Voice Actor,

Travis Lindsey.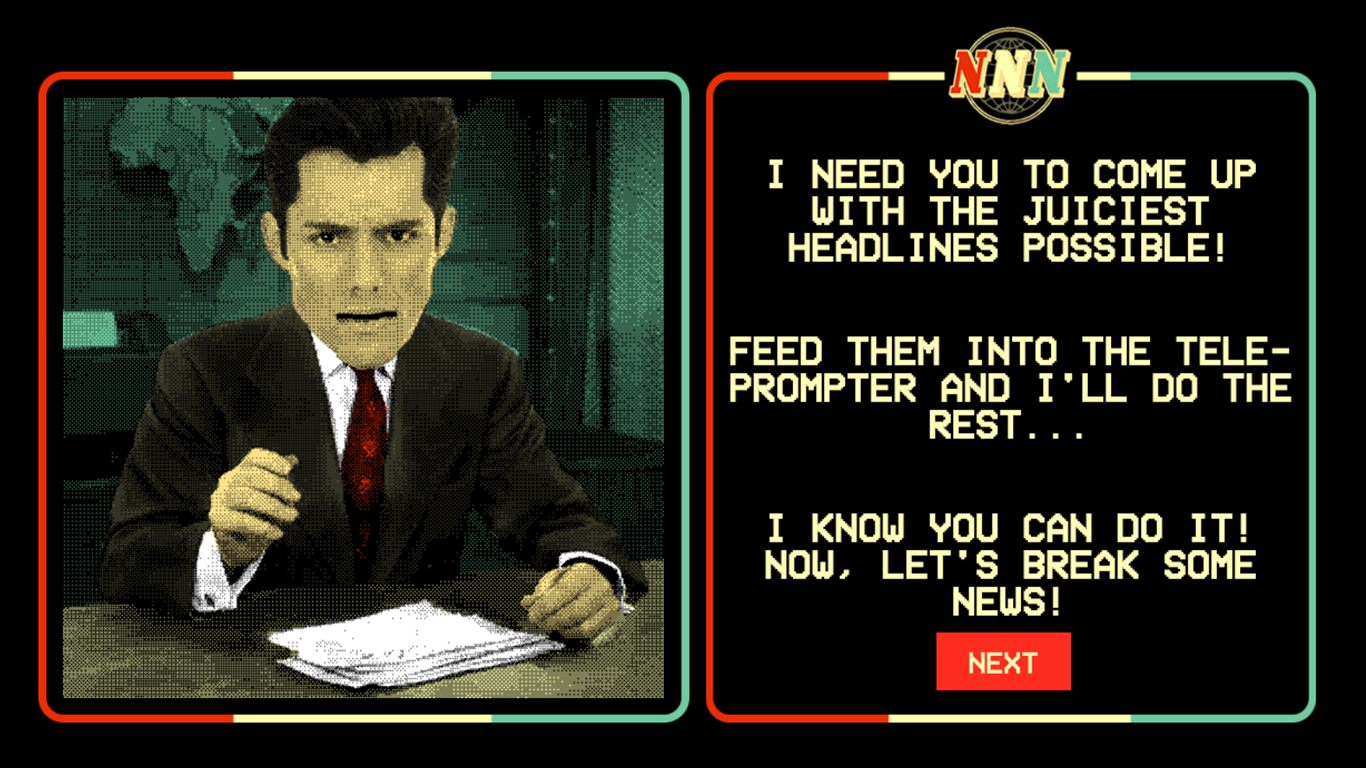 I decided to keep the gameplay 

simple

and

straight forward

with a relatively quick play time and easy

replay-ability

. Also, this was my

first time learning jQuery

and I wouldn't have been able to handle much more in terms of coding if it weren't for tips from fellow designer and good friend 

Ben Lippincott

and a wealth of 

BGSU

class resources. 
Based on the

player's choices

in the newsroom, they will receive one of three endings that reflects the successfulness in spreading their sensationalist agenda. These endings include

"Spilled Milk"

,

"Hair on Fire"

, and

"End of Days"

.
Joshua Bellas

- Director / Producer / Visual Artist
Kim Young

- Instructor / Advisor
*Created in fulfillment of 

BGSU

curriculum*